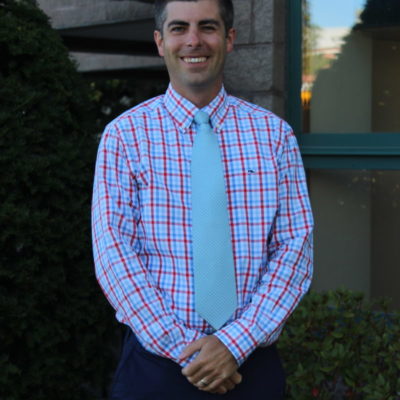 Patrick T. Maloney
President
B.A., College of the Holy Cross
Patrick T. Maloney is the fourth President of Nativity School of Worcester. He was named President by the school's Board of Trustees in January 2017 after serving as Interim President for six-months. Mr. Maloney joined the Nativity Worcester community in January 2012, as the school's Director of Advancement and was promoted to Vice President for Advancement in July 2015 before becoming Interim President in July 2016. He manages the school's strategic priorities, as well as overseeing the annual fundraising and school's first-ever comprehensive capital campaign, "It's OK to be Good Here – The Campaign for Nativity School of Worcester."
As the head of Nativity Worcester's development operation, he was charged with identifying, cultivating, and soliciting philanthropic support and coordinating communication efforts for Nativity School of Worcester. During his first three years at Nativity Worcester, the school has seen two record-setting annual fundraising campaigns totaling over $1.2 million each year. He was the manager of the school's first-ever capital campaign, a $10.5 million multi-year effort, and secured the school's single largest gift ever of $1 million. A proud Worcester resident, Patrick graduated from Saint John's High School and then the College of the Holy Cross with a BA in history in 2002. Following his graduation, he worked in the Athletic Media Relations Office at the College of the Holy Cross where he compiled statistics for varsity athletic teams, managed media requests, and wrote press releases and feature stories for publication. In 2004, Patrick moved to the Admissions Office at Holy Cross and traveled nationwide to recruit prospective students for his alma mater. After four years, he started work in the Office of Development at Worcester Polytechnic Institute. While at WPI, Patrick directed the Parent Fund, managed the leadership annual giving society, oversaw the Senior Class Gift Program, contributed to a $2.25 million Annual Fund total in FY11, the highest amount in WPI history, and assisted in strategic and tactical planning for the annual fund and capital campaign.
Patrick is involved in the Worcester community in several different capacities. He currently serves on the Board of Directors for Matthew 25, Inc. as Vice Chairman and is the Secretary for the Supervisory Committee of Millbury Federal Credit Union. He also serves as a corporator at the Greater Worcester Community Foundation, and Board of Directors of the Holy Cross Varsity Club, having concluded the Club's longest-ever term as President in 2014. Previously, he served two consecutive 3-year terms on the Board of Trustees at Notre Dame Academy in Worcester and a 3-year term on the Board of Directors for Preservation Worcester, served on the Blessed Sacrament Parish Finance Committee from 2008 to 2012 and chaired that parish's part of a diocese-wide campaign to increase offertory funds in 2010.
Patrick and his wife, Kristine, reside in Worcester with their two children.