A Familiar Face at Your Favorite Place: Angel Montanez at Nativity School of Worcester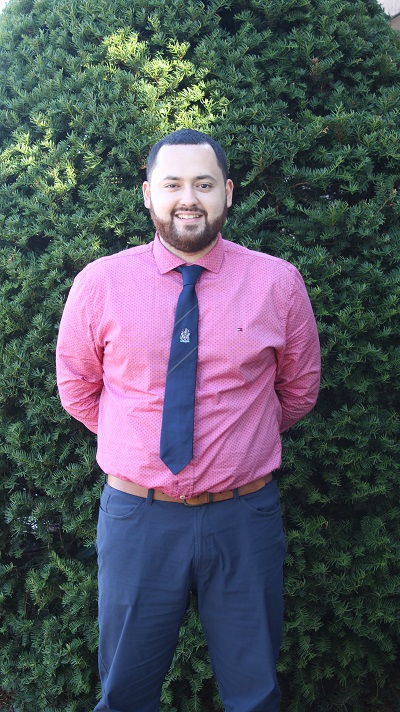 Who are you  and what are you doing?
"My name is Angel Montanez and I am a member of the Xavier class of 2007. I am currently the Manager of Operations at Nativity while also working as a server at a local Worcester restaurant, Bocado's.  Working as an Operations manager and server means that I am always busy (but a good busy)! In my role at Nativity, I am able to utilize all of the skills I have learned as a young professional and use them to improve the lives of young men that come through Nativity. It brings me great joy that I am able to return to Nativity to assist the teachers, staff, and students that helped me when I was a student here. It also means that I am able to continue learning how to improve my professional skills and communication so that when new opportunities arise I am ready to strive, evolve, and thrive in any atmosphere.
Expanding on who I am as a person, I am a proud Hispanic and Latino. My family is from Venezuela and Puerto Rico. I take pride in that and love talking about my heritage with others. I grew up in Worcester and consider myself an inner city kid. I am also part of the first class to go through all 4 years at Nativity!
Another thing you may not know about me is that in my free time I practice martial arts, but also enjoy watching martial arts on a regular basis. I enjoy spending quality time with my family, especially my young twin nephews. I also enjoy being outside and relaxing."
What does NSW mean to you?
"Nativity to me means community. Throughout middle school, high school and even now, Nativity has played a big part in my life and has provided me with a strong foundation as a young man growing up.
Nativity has helped me form and create my current support system. Two of my closest classmates, and now friends, who are like brothers to me are Jordy Melendez and Noel Stemn. Nativity provided me with lifelong friends who I am able to have deep conversations with and form a real bond that turned into a forever brotherhood. Nativity connections are all about light hearted fun conversations at times, but when needed we can have emotional conversations to truly help one another out.
Nativity also provided me with the opportunity to always have a growth mindset. I know that I can do anything I put my mind to and am always open to learning because of Nativity's teaching of growth mindset."
What is your favorite NSW memory?
"This is a really tough question because there's definitely a lot. Some that you I shouldn't probably say, but it was always a great time at Nativity. One memory that comes to mind is the 7th/8th grade sleepover we had at the old Irving St. location. I was an 8th grader at the time and I remember projecting all of our video game systems on the massive wall,  but specifically having Halo projected on the screen. We also played manhunt in the old church and to us, nothing was off limits. We hid all over the building and there were some INTERESTING hiding spots that many of us didn't think of. At the end of the game the winner had the ultimate hiding spot which took us about an hour or two to find him. If you know you know."
Advice you want to give the younger Nativity students:
"Good luck means nothing if you're not ready or prepared to take on those great opportunities that luck may bring. So always work on making yourself better, improving your skills so that when "Lady Luck " presents something great to you 're ready to knock it out the park. This is something that I have to remind myself of all the time."