A Saint John's Reflection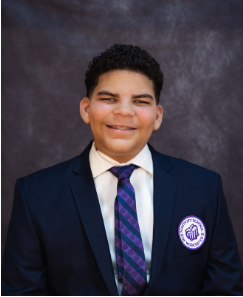 My name is Eydemir Hernandez from the Mveng Class of 2021 and I am a sophomore at Saint John's High School in Shrewsbury. The past year and a half has flown by. It's amazing to think about all of the experiences I have come across and how they have affected my life. A major part of my high school experience is being part of the Saint John's football team. It has been one of the best experiences I could have asked for. While playing football, I have been able to be part of the true brotherhood of Saint John's High School. 

This year I have been able to take Honors Spanish, Chemistry, English, Geometry, World History, and Sacraments of the Church. Next semester, I will begin a Graphic Design class. I worked hard during my freshman year to move up to level 1 classes for this year. Nativity has been a big part of helping me every step of the way and prepared me well for high school. 

I hope I can be an inspiration to my fellow grads. I try my best to help other Nativity graduates and the underclassmen at Saint John's. It brings a smile to my face when I can help someone.

I am grateful to Nativity for the support and the opportunities they have given me. The Nativity community is there for everyone, not just me. Even if you don't know the person you are helping, it leaves a good feeling in your heart. If you don't help someone you see is in pain, you will regret it. Nativity has taught me to always lend a helping hand. This is what Nativity is all about.