Generous Gift Establishes the J.D. Power III Scholarship Fund at Nativity School of Worcester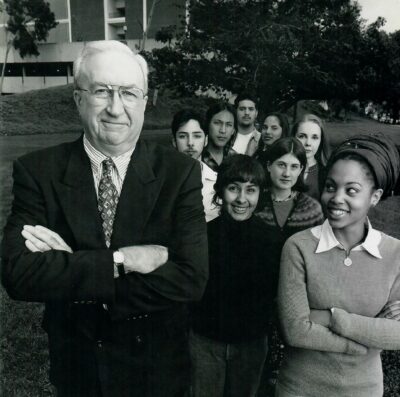 Nativity School of Worcester received a $200,000 gift to establish the J.D. Power III Scholarship Fund. The Power family's Kenrose Kitchen Table Foundation made the generous donation to launch this endowed scholarship fund that will support the education of boys from under-resourced communities in Worcester. 
J.D. Power III grew up on Lincoln Street in Worcester, not far from Nativity Worcester. Mr. Power was a firm believer in the power of a holistic and values-based education. The creation of the J.D. Power III Scholarship Fund ensures the continuation of J.D.Power III's legacy by providing young people the opportunity to access a high-quality education and achieve their dreams. "Our community is deeply grateful to the Power family for their commitment to ensuring our students continue to receive a life-changing education," said President, Tom McKenney. "This scholarship will have an immediate impact on our school and since this gift grows our endowment, it is a wonderful promise for the future of advancing our mission."
J.D. "Dave" Power III along with his wife, Julie, founded the market research firm J.D. Power and Associates in 1965, which has since grown into one of the most successful data analytics and consumer intelligence companies in the world. 
"My father was a proud Worcester native from humble beginnings," reflects Mr. Power's daughter, Susan Curtin. "His success was shaped by the influences of a tight-knit family and Jesuit education. Our family is honored to support this scholarship fund in his memory." 
Nativity School of Worcester is an independent, Jesuit middle school for young men from under-resourced communities. The school offers a personalized learning environment with small class sizes, an extended school day, and a summer session for all students. Additionally, Nativity Worcester provides graduates crucial support following their 8th grade graduation, including academic tutoring and tuition assistance to ensure they persist on their secondary and post-secondary educational journey. One hundred percent of Nativity Worcester high school-aged graduates are currently enrolled in high school and on track to graduate, which is well above average for boys from historically marginalized communities. The Nativity Worcester educational experience is tuition-free and made possible by generous supporters, as well as the J.D. Power III Scholarship Fund.