Making the WOO about YOU!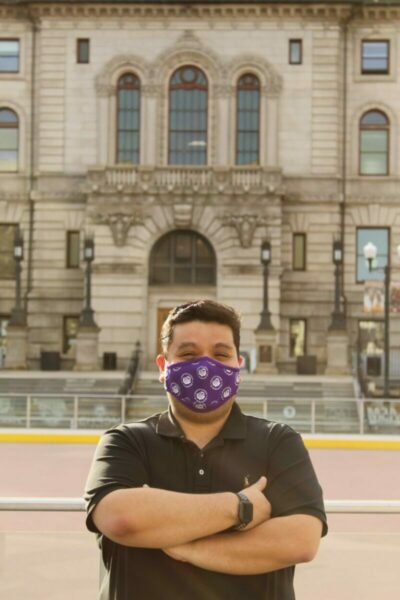 Guillermo Creamer, Jr. Faber Class of 2008
How has your past year been?
This past year was a difficult year for everyone, I dedicated a lot of time for self-care and just as the pandemic began to kick into full swing I started a new job and moved back home to Worcester. I joined the Foundation for Civic Leadership as their Deputy Director of Programs and Partnerships and Blue Haven Initiative as their Special Projects Manager. These roles have been heavily engaged in the civic engagement sector and with the 2020 elections, my work was intense, but overall extremely rewarding. Our country saw a high turnout for an election and young people truly made a difference in this last election. Outside of my career I have been active in the local community and was appointed to the Human Rights Commission for the City of Worcester. My partner recently moved in which has been a whole journey within itself. Overall the past year has been hectic but I would not change anything about it. 
What are some of your favorite places to go or things to do in Worcester/Central Massachusetts?
Worcester has so much to offer, I love the natural trails in and around the city. The food scene in Worcester is relatively unique, I enjoy trying new places throughout the city. Overall I love the diverse culture that exists in Worcester and I continue to learn new things from people everyday here. 
What led to your decision to run for City Council?
Worcester shaped me into the individual that I am today and running for City Council felt like a way to recommit myself to this community. I am running for us, for our collective voices to have a leadership role in this city. I am running for our communities who often are left out of the conversation and frequently are overlooked during the changemaking process. I am running because I am tired of the same people taking on the same positions of power, if you want to see change then you have to do something about it. 
When I made the decision to run for City Council I thought about my friends, family and teachers that shaped me into being who I am today. I am committed to making each and every one of them proud. 
If you are interested in learning more about the campaign head on over to the website! 
What are you most looking forward to post-pandemic?
Travel! Although now with the campaign I'm not sure how realistic that'll be. I miss traveling to different parts of the country and world! 
Any advice you'd give to younger Nativity Men?
Be true to yourself always. If Nativity taught me anything it is to be a man committed to the world. The Nativity pillars are a solid foundation to living the life that you are proud of, don't forget it. Always ask for help, asking for assistance is not a sign of weakness, it is a sign of strength.