Nicholas Le: A Rising Entrepreneur with Good "Taste"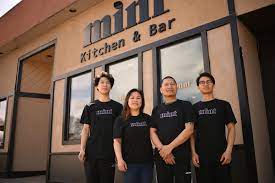 Nicholas Le, graduate of the Hurtado Class (2014), is the Front House Manager at Mint Kitchen & Bar. Nick along with his family recently opened their family restaurant and are receiving rave reviews!
Nick shared the news with the Nativity community during our Spring Auction on March 25th. The new business owner mixed and mingled as he shared the exciting news about his family's restaurant.
Here is what he has to share with us:
What kind of cuisine will you find at Mint Kitchen & Bar?
"Mint Kitchen & Bar is a Vietnamese restaurant with a mission to bring a modern twist to traditional Vietnamese food. We also offer a full bar with live music experiences."
What are you looking forward to in the future?
"I'm looking forward to going back to school for the fall semester, working full time has given me insight on what steps I would like to take toward my future."
Is there any advice you'd like to share with current students and graduates?
"My best advice is to build social skills and get comfortable with networking. This is something I struggled with a lot and I wish I had put more emphasis on learning to network."
If you're looking for some delicious food and would like to support one of our graduates, stop by Mint Kitchen & Bar and enjoy a lovely restaurant experience!