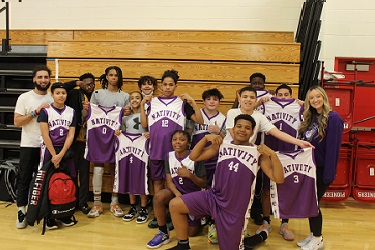 The After-School Program exists to supplement the education received by Nativity Worcester students during the school day with a comprehensive, character-building sports and tutoring program.
The After-School Program is designed to develop students academically, physically and socially. It begins at 3:30 p.m. Monday through Thursday, and operates as an intense program which runs for an hour and a half each afternoon. Students are split into two groups based on whether they are part of the interscholastic or intramural sports team. One sports team practices Monday and Wednesday, with evening study on Tuesday and Thursday, while the other sports team operates on an opposite schedule.
The most essential component of the After-School Program is evening study. The program first assesses student progress and uses these assessments to target academic deficiencies.  Paired with volunteers, most of whom are undergraduates from Assumption College and College of the Holy Cross, and working directly with Nativity Worcester staff, the students grapple with academic subjects that pose personal challenges. It is also a time to develop the skills for independent and silent study as such skills are critical for success in high school. For those older students who need to develop their time-management skills, quiet rooms are provided for independent study.